Technology-Inspired Health Innovation at Illinois
Shape the future of health innovation and education at Illinois
The Health Innovation Visioning Committee has been charged by Chancellor Jones to consider a new technology-inspired academic health research and education model that makes a significant, visible, and sustained impact on human health. We have been asked to think comprehensively, broadly, and boldly how such a model can uniquely position Illinois as a national and global leader in health innovation that improve the human condition and impact humanity.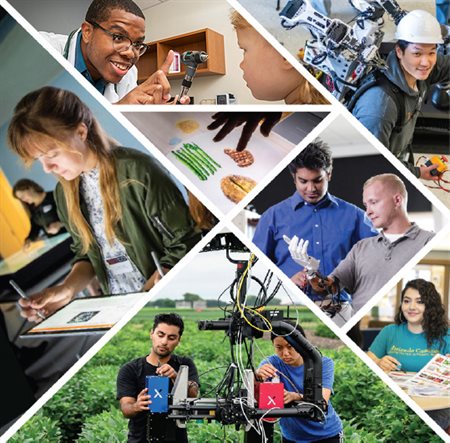 Building on the Interdisciplinary Health Sciences Institute's growth and successes and the work of the Health Sciences Strategy Task Force from 2018, this Visioning Committee will set the foundation to elevate health sciences and education, as well as technology and social innovation here at Illinois.
The committee has worked to gather broad input from the campus community through various discussions, Town Hall meetings, and an online input form. This input will be incorporated into a white paper report to the Chancellor in January 2023.
Committee Members
Stephen Boppart, Chair
IHSI, GCOE (BioE, ECE), CI MED
Rohit Bhargava
CCIL, GCOE (BioE)
Martin Burke
LAS (Chemistry)
Ryan Dilger
ACES (Animal Sciences)
Sharon Donovan
IGB, Personalized Nutrition Initiative, ACES (Nutritional Sciences)
Martha Gillette
Neuroscience Program, LAS (Cell & Developmental Biology)
Rosalba Hernandez
Social Work
Elizabeth Hsiao-Wecksler
Jump ARCHES, GCOE (MechSE)
Halil Kilicoglu
iSchool
Ruby Mendenhall
CI MED, LAS (Sociology)
Jeff Moore
LAS (Chemistry)
Eva Pomerantz
CSBS, LAS (Psychology)
Wendy Rogers
AHS (Kinesiology and Community Health)
Carin Vanderpool
Vet Med, LAS (Microbiology)
Amy Wagoner Johnson
CI MED, GCOE (MechSE)
Neal Cohen
LAS (Psychology) ex officio
Paulanne Jushkevich
OVCIA ex officio
Susan Koshy
LAS (English), OVCRI/IHSI Faculty Fellow ex officio
Melanie Loots
OVCRI ex officio
Gillian Snyder
IHSI ex officio
Kraig Wagenecht, Project Manager
OVCRI ex officio
Bridget Melton
IHSI Communications Support
Kacey Nelson
IHSI Graphic Design Support
Leta Summers
IHSI Administrative Support